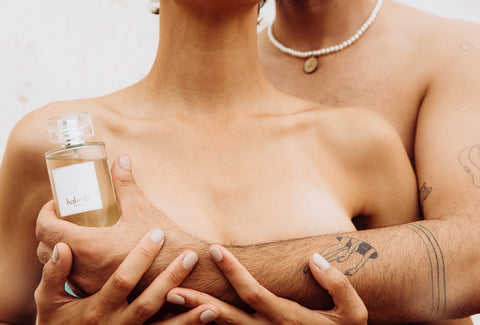 What is the most aphrodisiac smell? Here is a question we often ask ourselves. Jasmine, rose, vanilla or musk, so many sensual fragrances with a mysterious wake, charged with eroticism. So, what are the most famous aphrodisiac perfumes? Which olfactory notes to choose? Here are 5 captivating feminine fragrances to awaken desire and capsize hearts.
Jasmine, an excellente aphrodisiac perfume : 
White jasmine or jasminum officinale is one a white flower, with a delicate fragrance that is both fresh and delicious, leaving the most sensual scents. Jasmine is an oriental flower by essence, used in perfumery for its calming, but also euphoric virtues. Sweet and honeyed jasmine notes with a strong erotic potential that leaves no one indifferent. A rare and above all noble flower that invites you to run away, embodying with passion, ardor and simplicity, values that Kabeah Paris carries today.
Nuit de jasmin is an aphrodisiac fragrance, an absolute symbol of sensuality in all its splendor.
Discover now 
Nuit de jasmin, Eau de Toilette for Women with 
Top notes : Green Mandarine, Blackcurrant buds, Petitgrain
Heart notes : Jasmine Absolute
Base notes : Sensual Musk, Jasmine wood
The rose, an aphrodisiac olfactory note
Among the most emblematic aphrodisiac perfumes, there is of course the rose. With its floral notes, the rose would be likely to stir up desire. Ultra-feminine, the rose is above all an ode to love, with a carnal and bewitching trail.
At Kabeah, we imagine a perfume for women who like to seduce, and who like to be seduced. Belle Épine is the quintessential Kabeah woman. At the same time fierce, secret, but also fatal. The childlike woman who turns heads with her charming Damascena rose fragrance, a symbol of softness and femininity. A few sprays behind the ears, in the neck and in the hollow of the wrists to feel desirable, incredibly sensual.
Let yourself be enchanted by Belle épine, Eau de Toilette for Women, with 
Top Notes:
Dewdrops, Fresh grass
Heart notes : Rose Absolute, Geranium, Blackcurrant
Base notes : Soft Musk, Atlas Cedarwood
Vanilla, a perfume imbued with sensuality
Vanilla is often used in women's perfumes for its gourmet and sweet notes. From the first breath, vanilla captivates us and invites us to live a most sensual olfactory experience. Considered one of the most carnal ingredients in perfumery, vanilla has a strong aphrodisiac power. The vanilla-scented skin is soft, warm, inviting carnal desire. A vibrant perfume of imagination where no one can resist, where everything is possible.
Cinnamon, a feminine fragrance with sweet accents
Cinnamon perfume, a scent both retro and sensual that expresses an assertive femininity. Cinnamon bark is particularly warming, it is one of the aromatic aldehydes which makes it a sexual stimulant. Its aphrodisiac properties are known to stimulate sexual sensitivity and excite erogenous zones by promoting the secretion of hormones.
We particularly like its woody and spicy notes which give this fragrance all the power and character sought. A summary of pleasure to offer yourself on a daily basis.
Musk, a powerful aphrodisiac fragrance
Musk is recognized in particular for influencing the sexual desire of women and men like a smell conducive to a cuddly atmosphere. Coming from the glands of the male musk deer, this very fragrant secretion brings mystery and depth to the formulation of a perfume. An enveloping fragrance with multiple and subtle facets that is undeniably seductive. A generous and intoxicating sensuality found in Nuit de Jasmin, but also Lily Chérie.