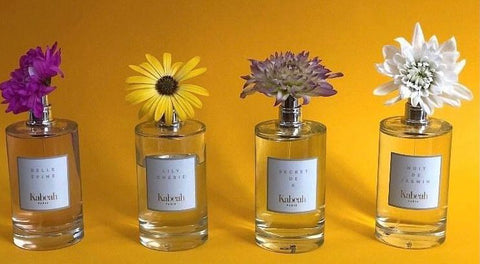 As a synonym of freshness, floral fragrances are part of an olfactory family particularly appreciated in the perfume world. Feminine scents of rose, bergamot, or even jasmine that go well with all other olfactory groups. A woody, fruity, or amber floral note that completes you during all seasons based on your desires and your personality. Here is a complete article to find out what floral scents are and how to choose them?
Recognize the floral olfactory family  
The fragrances coming from the floral olfactory family are composed of dominated floral scents.
Namely that perfumes are classified into 6 olfactory families. The floral one has various nuances, that is why it is the largest olfactory family. Its particularity is that the floral notes coordinate with all olfactory families and are often represented as heart notes in the perfume creation.
Here are the different categories of flowers we can find in a floral fragrance:
white flowers (jasmine, ylang-ylang, tuberose, magnolia, lily, orange blossom)
powdered flowers (iris, mimosa, violet)
green flowers, also called spring or vegetable (daffodil, narcissus, etc.)
roses (peony, rose, pink geranium)
spicy flowers (carnation, immortelle, wallflower)
rare or atypical flowers (reseda, broom, mahonia)
The history of floral fragrances and their characteristics
 In the 1920s, the aldehyde floral scent was the most fashionable and trendy in terms of women's fragrances.
In the 1950s and 1960s, women of the upper middle-class turned to more powdery floral fragrances. Floral notes of rose, jasmine, or tuberose tend towards romanticism.
In the 1970s, freedom returned with the trend for fresher flowers such as green flowers or rarer flowers.
In the 90s, perfumery turned to more greedy and fruity scents. Today the trend is again related on floral scents and romantic notes. A return to nature, with zen and fresh fragrances.
The main flowers incorporated in floral fragrances are cultivated in France, Tunisia, Morocco, Turkey, etc. Where they naturally find heat and rain.
Floral perfumes: how to choose your perfume?
As we have seen, the floral olfactory family is the most extensive in the world of perfumery. So how do you choose your perfume with floral notes?
Jasmin and rose: the stars of floral fragrances 
Whether combined or alone when creating a perfume, jasmine and rose are the most two flowers often found in a woman's perfume. The rose of Damascena, the most famous and used at Kabeah Perfumes, gives off particularly fruity notes. Jasmine, on the other hand, is a white flower appreciated for its feminine and fresh notes that go easily with other floral families. To each their trail.
Floral fragrances at Kabeah Parfums
For those who like delicate and natural fragrances or rather oriental and musky, here are our 4 fragrances for women. To each their trail.
If you are looking for a floral fragrance with greedy notes.
Lily Chérie
will be the perfume you need with its notes of bergamot, honeysuckle, lily of the valley and white musk.
Composition of Lily Chérie : 
Top: Bergamot, Galbanum, Mandarine
Heart: Honeysuckle, Lily of the valley, Summer Fruits, Green Tea
Base: Cedarwood, White Amber, White Musk 
For a sweeter floral scent,
Secret de K
will undoubtedly be the one that suits you the most with its Patchouly notes.
Composition of Secret de K :
Top: Petitgrain, Green Mandarine, Fresh Mint, Galbanum
Heart: Geranium, Linden, Wild Strawberry
Base : Patchouly, Bois de Gaïac, Fève Tonka
Nuit de Jasmin
is a most oriental fragrance with its exotic and musky scents.
Composition of Nuit de Jasmin :
Top: Mandarine verte, Bourgeons de Cassis, Petitgrain
Heart: Absolu Jasmin
Base: Musc sensuel, Bois de Jasmin
And finally, if you are looking for a rose fragrance,
Belle Epine
will be the one that will guide you in your daily life. Eau de toilette for women with Damascena rose.
Composition of Belle épine :
Top: Drewdrops, Fresh grass
Heart: Rose Absolute, Geranium, Blackcurrant
Base: Soft Musk, Atlas Cedarwood
In summary, floral fragrances are divided into 6 categories and can combine perfectly with other scents when creating a fragrance. At Kabeah Paris, we have 4 feminine floral fragrances that you can find in miniatures in our discovery box here.