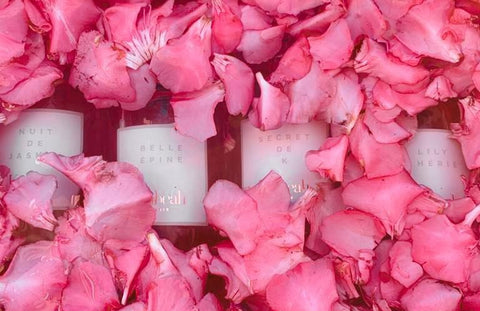 Do you wonder which fragrance to choose? Which olfactory scent would better suit you? Like an olfactory signature, choosing your Eau de toilette reveals a very personal approach that changes through several factors. Selective criteria are depending on your personality, your preferences, or even on year's seasons. Here is a complete article to better understand how to choose a perfume related to each one.
How to choose your Eau de toilette?
To help you in your choice to select an Eau de toilette that fits you, here are three tips to better guide your final decision:
1.
Select your Eau de toilette according to its olfactory classification
Unlike perfume, eau de toilette has a fresher concentration, appreciated for its lightness and subtlety, which make it easier to be wearied. This difference is mainly due to the quantity of perfume's concentration mixed with alcohol. Here you will find all the information to underline the difference between an Eau de toilette and a perfume. A sweet and varied fragrance, available in seven olfactory families that will satisfy everyone's tastes and provide a unique experience:
The Aromatic family

The Wooded family

The Chypre family

The Flowered family

The Fern family

 The Citrus family

The Oriental family
2.
Choose your perfume according to your age, your personality, and your mood
It is often said that Eau de toilette reflects your personality. To select your eau de toilette, you will have to like it, to feel transported, well dressed, like a second skin. It is important to know that our tastes change with age. Thus, the personality of a fragrance will be or not appreciated. For example, young teenage girls particularly like sweet, greedy, even tangy scents. While more mature women voluntarily let themselves be transported by more floral and sensual fragrances. They appreciate more daring fragrances, such as eau de toilette with amber and musky notes. While the woody notes would suit men with manly looks.
3. Choose your fragrance according to the seasons
Whether in summer or winter, choosing your eau de toilette may change depending on the season. For example, during summer, women tend to wear an Eau de toilette with a fresh, light, and airy fragrance. And floral and tangy notes related to fresh essences. While in winter, they will easily opt for an amber, musky, or oriental fragrance. A fragrance that leaves a bewitching trail that comforts and warms.   
Which perfume to choose at Kabeah Paris?
To find out how to choose your eau de toilette, Kabeah Paris has created a collection of perfumes with four unique fragrances. An eau de toilette formulated with plant and floral essences to reveal to women what is on them, according to their tastes and their personality.  
As you understood, how to choose your Eau toilette depends on several factors: your tastes in terms of olfactory family, your character traits, your mood, and through the different seasons. One way to feel aligned with the scent of your choice. Discover now our discovery box for women with the four fragrances of Kabeah Paris to create your custom-made olfactory signature according to your desires. Depending on your mood of the day, you can choose to match your scent, or even personalize it to make it unique and leave a trail that reflects your personality.