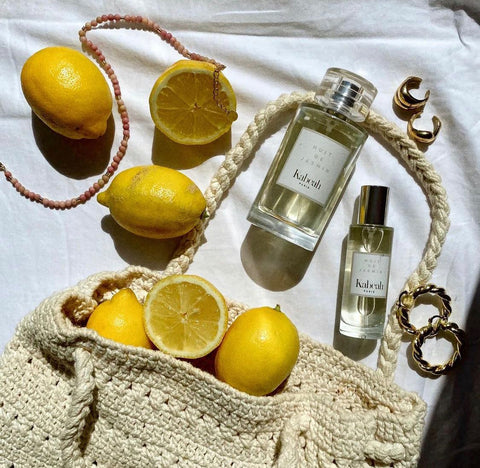 Summer is coming to an end and you would like to prolong the sweet, fresh, and invigorating scents of fruity scents. Fragrances that offer sensual, romantic, and bucolic olfactory strolls. Here are few fragrance ideas for women with delicately fruity and tangy citrus notes, just as you like them.
What is a fruity scent? Definition and characteristics
A family of fruity fragrances is made up of gourmet, fresh and invigorating notes. It is mainly defined by the presence of fruit in the top note. So, when you spray the perfume on your wrist, you will smell as the first scents, notes of pear, fig, or mandarin, for example.
Namely that when you create a perfume, it can be composed of natural fragrances or syntheses and there are several families even within the world of perfumery. To find out more, here is a full article on how to choose an eau de toilette?
The citrus family, one of the best known, includes fruity scents, and in particular citrus fruits, such as:
The orange;

The mandarin ;

The grapefruit ;

The lemon ;

or the bergamot;
These tangy scents
are often present in colognes and eau de toilette. Fresh and invigorating, they are light, perfect if you are looking for a fruity fragrance for women.
There are also other fragrances, less acidic and sweeter, such as mango or apple. Another shade used in fruity scents is orange blossom, better known as neroli. The latter brings a sensual, slightly spicy touch, ideal to complete the scent with tangy citrus notes.
The best fruity fragrances for women from Kabeah Paris
Sweet, delicate, sensual, or invigorating, the fruity scents enhance each personality. Each perfume will have a different scent and will leave a unique trail. At Kabeah Paris, all our perfumes are made in France and are vegan. Unique 100% vegetable scents, which Khedija Ben Ayed, creator of the brand, wanted to recreate to remember of her childhood garden, populated with jasmines in Tunis. An olfactory memory where her mother, grandmother, and granddaughter are linked. Here are 3 fruity fragrances for women that will seduce you.
Lily Chérie, a fruity fragrance with gourmet notes
This perfume was designed for women who are both pin-up and childish, flirtatious and carefree. Its composition with fruity notes:
Top: Bergamot, Galbanum, Mandarin

Heart: Honeysuckle, Lily of the valley, Summer fruits, Green tea

Base: Cedarwood, White amber, White musk
Secret de K, a fruity fragrance with fresh and invigorating notes
This fragrance was designed for women who are mysterious, secretive, and explosive at the same time. For a bohemian woman who loves timeless fragrances. Its composition with invigorating and fresh notes:
Top: Petitgrain, Green Mandarin, Fresh mint, Galbanum

Heart: Geranium, Linden, Wild strawberry

Base: Patchouli, Gaïac wood, Tonka bean
Nuit de Jasmin, a sensual fruity fragrance with exotic scents
This perfume was designed for falsely ingenuous women, sensual at will. For those who are not afraid to take risks and who love life passionately, madly. Its composition with exotic fruity notes:
Top: Green mandarin, Blackcurrant buds, Petitgrain

Heart: Absolute Jasmine

Base: Sensual musk, Jasmine wood
In summary, fruity fragrances for women come, for the most part, from the hesperidia family, but other more sensual nuances can complement the composition of the perfume. Sweet and tangy notes that tenderly remind us of summer and citrus scents.